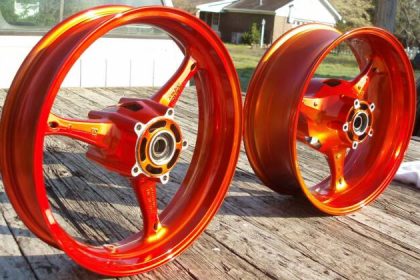 In modern times, an increasing number of objects are made up of metals. These metallic parts are strong and attractive to look at. But like any other thing, these metallic objects are susceptible to damages from wear and tear or other detrimental factors. Over time, the metallic objects lose their luster and start to look ordinary. To prevent this from happening, owners often use paints but these paints also come off after some time. Nowadays, the trend of using powder coated paint on metallic objects is emerging because of the numerous benefits of the powder coating paint. This type of paint has proved to be the most long-lasting, economical and gives high quality of finish to any kind of metallic object that's why an increasing number of industries, businesses and consumers rely on powder coating paints.
Surface finishing can be done in a very creative way using the powder coating method as all types of color shades like high gloss, iridescent, hammer tone, wrinkle, flat, satin and metallic finishing can be applied on to the objects. This gives a vibrant and elegant appearance to the machines that are subject to the painting work. In addition to improving the appearance of any appliance, the powder coating also gives more safety to the device as the powder coated paint are resistant to scratching, fading, chipping and other such damages when compared to other type of finishes.
Powder coating doesn't just protect the surface that it's applied on but this type of paint is also environment friendly as no harmful solvents are used. The absence of volatile organic compounds in powder makes it very safe to use for the workers and the environment. Many industries need to buy pollution control equipment to minimize the hazardous effects of solvent based paint but with the use of powder coating, this need is eliminated. The presence of VOC in negligible amounts and the reduction of hazardous waste help industries to follow the regulations of the US department of environmental protection agency. The powder coated paint is also very efficient as almost 70 percent of the weight gets utilized. This saves valuable financial resources for mass producing industries. The powder coated paint is very durable and doesn't come off easily and saves money and time.
Countless appliances and parts are painted using the powder coated paint. Most industries use powder coatings on appliances like cabinets of air conditioners, panels of refrigerators and other such appliances but this paint can also be used on parts that have lost the previously applied paint. The process of applying a powder coating is very simple and can be done effortlessly. The pigmented powder is electrostatically sprayed on the surface to be painted. This method can be used to easily paint the parts which are difficult to reach. Automotive parts such as door handles, bumpers, rims of wheel, hubcaps and other metallic parts can be painted using the powder coating paints. This gives them a very high quality, durable, uniform and attractive finish. One of the best powder coating companies is Rainbow Aluminium. They offer foremost painting services at the best prices. Their services can be used to elevate the appearance of any appliance or product made of metal.