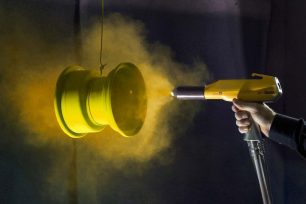 Powder coated paint finish is highly recommended for all the metal and other apposite surfaces. Powder coating is way better than the paint and people who are confused between these two options must opt for the powder coatings. The process and the application of powder coating need no explanation as this is the subject that has been discussed a lot over the course of time. Here in this blog, you will be given 5 standout reasons for choosing the powder coat overall its counterpart methods.
From economical standpoint powder coating clearly has the upper edge. First of all, base Material used in powder coating is substantially cheaper than paints. The transfer efficiency of powder coats is around 70% and it can also be reused. This means, there won't be any wasted products at all. All these things make it a cost effective solution.
Paint is clearly harmful to environment but on another hand, powder coat has some really good environmental benefits. There is no VOC and solvents in the powder coats, which makes it harmless to the environment at the time of application. Furthermore, it doesn't produces hazardous waste that needs to be disposed in appropriately.
Since the material is solid and inert, it is easy to manage and do not pose any health risk at all to the applicator. However, at the time of spraying, applicator needs to avoid any touch from the powder. Users just need to take some measures like avoid breathing in the powder and keep it away from the skin touch and this will ensure their safety.
Powder coating gives you final coat that is twice as thick as the wet paint. Furthermore, powder points are flexible and can bend in the accordance with the surface it is applied on. These two benefits make this solution ideal for different industries such as transportation, lighting, defense, architectural and more. Different can use them according to their need.
What makes it better from a production standpoint is that when the coated item comes out of the oven, it takes only 20 minutes or so to put it to work. This is way faster than paints as wet paints take days to dry and their reaction heavily depends on the atmosphere. Also, powder gets wasted a lot less than paint and ultimately saves the money of the industrial producer or user.
These reasons should make you opt for the powder coating over paint. Rainbow Aluminum offer services that justify all above-mentioned reasons. We are leading powder coating service provider who believes in quality. From furniture restoration, paint stripping to zinc powder coating, we offer all kinds of powder coating services to different industries.  We are established in UAE and offer services across the G.C.C.