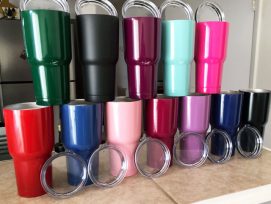 Whether you like it or not, people judge a book by its cover. It's the first thing that people notice, and believe it or not, it's the factor by which people form an image in their mind. And that is why it is quite essential to make a good impression, especially when it comes to the products like metal, automotive and furniture that would be presented or delivered to a customer. The finishing and coating of these products must be flawless. When it comes to coatings, people have to consider about more than is its surface color. Although it is a prominent factor to consider with respect to the selling point of a product, it's not the only one.
Most people opt to paint their products, as it is fast, cheap and easy to apply. However, if one considers the lifetime utility, costs and benefits of using paint, it becomes crystal clear that paint is neither practical nor cheap. A great alternative to painting the products is powder coating. Not only is it recognized for its unparalleled quality and the environmental benefits, it is superior to liquid painting in many ways. Powder coating works by applying the dry paint onto a surface by the means of electrostatic charging.
In powder coating, the dry paint or powder is adhered to the surface electrostatically via the spray gun. After an item is sprayed, it is kept in an oven at a particular heat temperature so that it can cure under heat. The final product has a hard finish that is superior to conventional paint. Powder coating is more practical than liquid paints regardless of the type of product it is used for. It is a fast and convenient process and lasts longer than any other painting solution. Moreover, the coating enhances the longevity and durability of the products substantially as it is corrosion-resistant and protects against other deterioration issues.
Apart from that, the powder coated things are resistant to peeling, cracking and scratching. It is resistant to most chemicals and solvents and also, it is resistant to heat, thus, it does not fade from sunlight. Moreover, unlike the liquid paints, it does not leave any harmful residue and have low production costs. Powder coating would be extremely beneficial for your products if you avail the services of the best and credible company. If you want your products to have a flawless and professional finish, the only means to accomplish that is to select the finest powder coating company.
Rainbow Aluminium & Powder Coating is one of the companies you should trust when you are thinking of availing the best powder coating services. We are the only company that offers 600 different colors and shades to coat your products. Established in 1995 in United Arab Emirates, we offer impeccable zinc powder coating, textured powder coating, paint stripping, sand-blasting and filler buffing. We are the only JOTUN approved applicator in the emirate of Ajman.